Water Damage Cleanup Experts!
Serving Metro Atlanta & North GA's water damage cleanup needs for over 29 years. Prompt professional response to any flood damage or water damage disaster you may have. We respond immediately to all water damage emergency calls 24hours a day year round! Fast water extraction and water removal services guaranteed. It's all about mitigating the loss, fast and efficiently to limit secondary damage and prevent mold damage when possible. America's Restoration Services provides the best customer service during these stressful times to help guide you through the whole process until your property is fully restored, like it never happened.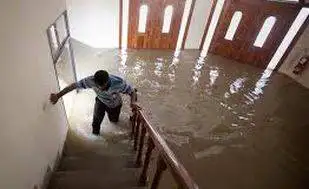 Emergency Water Damage Restoration Marietta
When choosing the right water damage restoration company, you only want a IICRC certified firm. The International Institute of Cleaning and Restoration Certification (IICRC) is the leader in water damage restoration training and certification. With over 29 years experience combined with the latest technology from the IICRC, America's Restoration Services guarantees proper procedure and guidelines are followed during the mitigation, cleaning and restoration process. The water damage restoration and mold remediation industry is technically not regulated, so having a certification from the IICRC will give you the assurance that this company takes restoration seriously. We provide 24hour emergency water damage restoration throughout Metro Atlanta, North GA, Alpharetta, Canton, Cartersville, Chamblee, Decatur, Duluth, Dunwoody, Kennesaw, Marietta, Powder Springs, Roswell, Sandy Springs, Smyrna, Tucker, Woodstock and all surrounding areas. Whenever a water damage emergency happens in your home or business, call America's Restoration Services for prompt professional service 24 hours a day for the best water damage mitigation service in Metro Atlanta. You can have peace of mind, knowing we will be there when you need us the most, always getting the job done right!
America's Restoration Services water damage restoration experts! We have the most advanced equipment available to extract the water, clean up the mess quick, properly dry out your structures, always mitigating the loss to save your home and property. Once we remove all the water and damaged material, the structural drying process begins by setting up our professional dehumidifiers, turbo dryers and negative air scrubbers. During the water damage mitigation process, we will monitor and test the air daily with infrared, thermal hygra-meters, test surfaces with specific moisture content meters and adjust the equipment accordingly, to ensure everything is drying properly and efficiently. Once the structural drying process is complete and the cleaning process is finished, we will re-test the air and all surfaces making sure everything is completely dry. We want to ensure everything is back to it's normal state, to prevent any mold or mildew issues for your piece of mind. Then we can move on to stage 2 and get your property back to better than pre-loss condition. We always protect what matters most and guarantee all services performed.
Just a call away 24/7!