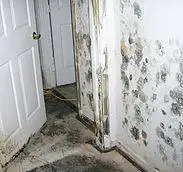 Proper mold removal services is not simply a matter of cleaning the visible mold that has infested damp wood or drywall. Mold spores are everywhere, inside and outside, but they merely float through the air if they don't have water and organic material to help them form destructive colonies. To properly handle mold removal, you must also eliminate the source of the water problem. The experts at America's Restoration Services excel with detailed premium mold removal services, mold inspections, mold evaluations, mold damage repair, mold cleanup, expert mold remediation and water damage restoration. Mold remediation requires containment, all mold damaged surfaces to be remove, detailed cleaning, hepa vacuuming all surfaces in any affected rooms, combined with dehumidification, negative air scrubbing and multiple treatments with antimicrobial agents.  Most importantly to prevent future damage or contamination, we provide premium mold/mildew control and prevention applications prior to restoration of water damage or mold damage repair services being performed.
In addition to the best complete commercial and residential mold removal services, we attack a mold problem at it's source – the dampness, condensation or soaked-in water that gives mold spores a chance to thrive. We are Atlanta's best water damage and mold damage mitigation experts  hands down. Whether it's the aftermath of a flood or a leaky pipe, our technicians respond immediately mitigating the damage, with over 27 years of IICRC certified experience to apply the technical know-how to prevent another potential mold damage infestation before it has the chance to start. We'll also tackle mold removal for those hidden infestations, in out-of-sight places where dampness does its dirty work. Our expert mold remediation and mold removal process guarantees complete mold removal every time. We always remove all mold contaminated surfaces and thoroughly clean, sanitize and dry remaining surfaces in every structure that we perform complete detailed mold removal services or mold remediation.
These areas include:
Crawl spaces
A flooded basement
Attics
Behind wallpaper
Under carpet
Floor padding
Ceiling tiles
Ductwork
Expert mold removal services requires the complete removal of all mold contaminated surfaces and replacement of existing structural components that are infested to guarantee the complete removal of mold damage and protect what matters most: The people and loved ones that inhabit all structures in homes or business. Because America's Restoration is a full-service mold removal services and toxic mold remediation company, you won't need to hire another contractor to complete the job – we clean, protect and restore. We not only remove mold, we can control mold by eliminating it at it's source and protect your property.
America's Restoration Services provides expert residential or commercial mold damage cle3anup and the best mold removal service specialists in Metro Atlanta and all surrounding areas. With over 27 yearsof IICRC Certified experience in the water damage mitigation, mold remediation, duct cleaning and full service damage restoration business. Contact us for complete resolution of your mold problem anywhere in Metro Atlanta and North GA!
Water Damage!!!
4 IMMEDIATE STEPS YOU MUST TAKE:
AVOID THE HAZARDS!
Be extremely careful of the deadly combination of water and electricity. Also be careful of slippery wet carpets and floors. Stay away from raw sewage backups, which can contain nasty bacteria and can be harmful to your health.
STOP THE SOURCE!
If you have not located the source of running water call us immediately and we will guide you through this.(it is critical to know what to do!!!)
REMOVE FURNITURE!
Wood furniture will cause stains which cannot be removed. Rust stains from metal are difficult to remove and may be permanent. 95% of water damage jobs can be restored and most of the 5% which aren't restored, are caused by not doing this. So move furniture that's near water or place something under the legs.
TAKE IMMEDIATE ACTION!
By calling America's Restoration Services, open 24 hours a day, 7 days a week. Get in touch IMMEDIATELY with a water damage expert. No transferring calls or being put on hold. After you call we are on our way to do an evaluation.